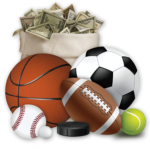 Choosing a Sportsbook is not an Easy Decision
We're here to help show you how to choose a sportsbook. Finding a quality online sportsbook is not an easy decision and must not be taken lightly.
Key Points
Choosing a sportsbook is one of the most important decisions that any bettor will make.
There are thousands of sportsbooks from which to choose in a very competitive industry.
Bettors should consider sportsbooks with strong reputations for taking care of their customers.
One of the biggest decisions you will make as a sports bettor involves choosing a sportsbook. That decision can be as important as any betting decision you will ever make.
With the number of states in the U.S. that now allow sports betting, more bettors are searching for quality sportsbooks. The market is full of competition with numerous sportsbooks vying for your betting dollars.
There are thousands of sportsbooks from which to choose. How do you know which one is for you? You can start by taking a look at our sportsbook reviews.
Find a Good Fit For YOU
As mentioned, there are numerous sportsbooks out there. Some may focus more on particular sports. One may offer bettor odds/juice on college and NFL football. Another focuses more on niche sports like golf and tennis.
Think about what you want from a sportsbook and then do your research. Find sportsbooks that will fit your needs. You might want one that offers lower minimum bets, for example. Choose accordingly.
We're always trying to help. Our last article helped you with understanding sports betting odds. Take a look.
Reputation
Choosing an online bookmaker is really no different than buying any product. Whether it's a flat-screen TV or a smartphone, consumers typically choose brands they can trust. Trust is developed over years of success in a business.
In a competitive industry, the best sportsbooks are those with strong reputations of taking care of their customers. Bettors should take the time to dig in and find sportsbooks that meet their needs and find ones they can trust.
MUST READ: CASH IN ON ONLINE SPORTSBOOK BETTING SPECIALS
Service When Choosing a Sportsbook
If a sportsbook can be trusted and meets your needs, make sure it offers outstanding service. This encompasses a broad range of items including any issues you might have, but also things like making deposits and withdrawals and even betting markets available.
The best in the industry offer highly trained customer service staff that is available at all hours of any day. They can be reached via phone, email, text, and online chat. Any issues you might have are taken care of promptly.
Things like banking – making deposits, for example – are easy. Using a sportsbook's mobile website or mobile app should be easy and engaging and there should be plenty of betting options. These are all aspects of a sportsbook's service.
Bonuses & Incentives
Because of the amount of competition in the industry, sportsbooks offer all sorts of incentives to acquire new customers and other bonuses to hold onto the customers they have already.
As a new customer at a sportsbook, you will find welcome bonuses such as deposit matches. When you make your first deposit, the sportsbook may offer a 100 percent deposit match (up to certain amounts, of course). Typically, those funds come in the form of free bets and there are rules before those funds can be withdrawn, but it's essentially free money.
Look for the best combination of bonuses and other incentives when choosing a sportsbook.
Have you been betting the 2022 Winter Olympics?