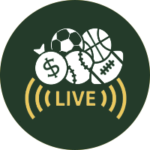 Live Betting is Becoming More and More Popular
Live betting is the newest and biggest trend to hit sports wagering.
Key Points
– Live betting is one of the hottest trends in the sports betting industry.
– Betting live can be used to a bettor's advantage in numerous situations.
It is the hottest trend in sports betting – in-game or live betting. Oftentimes, a winning bet comes down to timing. What if you could place a bet at exactly the right time? Live betting gives you the opportunity.
Instead of traditional bets on a side, point spread, or a game total; a live bet allows you to get a feel for how the game is being played. You can watch a game unfold and then bet accordingly while the game is being played.
HOCKEY BETTORS! BETTING THE NHL PLAYOFFS
Why Live Betting
Live betting is exactly what it sounds like. Bettors place wagers while an event is taking place. None of it would be possible without the advances in sports betting software technology.
Live betting lines are made possible by online sportsbook software. Typically, sportsbooks will update and post live betting lines whenever there is a pause in a game's action. Maybe there is a timeout or an injury. During these stoppages, new live betting lines are released.
As oddsmakers and makers of sports betting software have gained more experience, live betting lines are getting sharper.
ICYMI: Understanding MLB Run Line Odds
Using Live Betting to Your Advantage
Most sportsbooks now offer live betting, which they must do in order to compete. Almost every sporting event is available to make a live wager. There are certain situations where live bets really make sense.
Take the example of a pre-game bet gone bad. You bet on a team to cover and they are getting blown out. The 2018 AFC title game is a great example.
The Kansas City Chiefs were a 3-point favorite over the New England Patriots. The Pats went up by two touchdowns at the half.
At that point, a live bettor could have hedged his bet by taking the Chiefs +6.5. Kansas City did indeed battle back but lost in overtime, 37-31. Placing that live bet was a winner that hedged the initial wager on the Chiefs.
Use Multiple Sportsbooks for Full Effect
LIve sports betting can also be used to "middle" a bet. Middling is when you place bets on both sides of a wager guaranteeing at least one win and possibly hitting both. Sports betting variety is getting insane. Multiple new wagering markets are opening up every week.
Take another NFL game as an example. The Bills are an early 3.5-point favorite over the Dolphins. The game begins and the live betting line moves to the Bills -4.5.
The smart bettor who wagered on the Bills at -3.5 can now come in and bet on the Dolphins and +4.5. The absolute best situation is one where the final scoring margin ends up at four points – 20-16 or 35-31, for example. In that case, both bets win.
Live In-Game Betting at Different Books
Sometimes these line differences will be at different sportsbooks. Smart bettors use multiple sportsbooks to compare betting lines. Shopping for better betting lines is all part of why you create a lineup of winning online sportsbooks.
Live betting is an awesome way to take advantage of odds you might not consider prior to a game. Live betting makes watching games a bit more exciting too. For best results, try and place your live bets when there is a break in the game's action.
As soon as you see numbers you like, jump on it. In the live betting world, lines and odds change very quickly.