All major sports leagues in the US now have a casino sponsor after the NFL announces casino deal with Caesars. While it is a major win for the gambling industry, the deal doesn't include betting.
The NFL has a long history of avoiding ties with anything that involves gambling. However, it is softening its anti-gambling stance in recent years. It approved the move of the Raiders to Las Vegas in 2020. It will also hold the 2020 NFL Draft in the gambling capital.
After the Supreme Court overturned the ban on sports betting, major sports leagues acted fast. The NBA, NHL, and MLB signed separate deals with MGM. However, the NFL went on a different path. It took the football league several months to sign up a deal. It also went with a different casino.
However, the NFL-Caesars deal doesn't include sports betting. The three-year casino sponsorship is worth $30 million a year. According to marketers, it is mainly a marketing move for Caesars. It pays the NFL to use logos in ads and have the right to be known as the first casino partner of the NFL.
What Comes Next After NFL Announces Casino Deal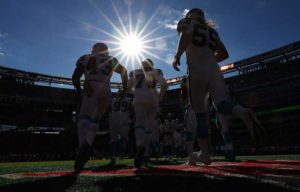 Picking Caesars didn't surprise sports news insiders. The casino is one of the partners of the new Raiders stadium in Vegas. As part of the deal with the stadium, the casino will have digital signage within the venue.
Most sports analysts stated it sounds like a naming rights deal, but Caesars didn't comment on that. However, there are speculations that Caesars will buy a naming right to the stadium. When that happens, Caesars will have a better relationship with the NFL. It can be a bookie for the league if the NFL changes its stance on sports betting.
As the official casino sponsor, Caesars can use NFL trademarks to promote its properties and hold events including the draft and Super Bowl. The casino will offer a wide range of options to provide unique experiences for football fans.