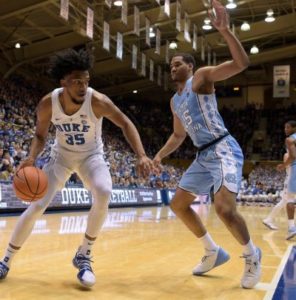 Today is the last day of the first round of March Madness and so far it has been full of disappointments.  In addition, we got to see a few upsets that made the underdog lover in us happy. In this 2018 March Madness Round 1 Betting Update, we will go into the big upsets and the disappoint games. We will also delve into why the sportsbooks are happy while the spots bettors are crying.
Thursday was pure mayhem for college basketball with Rob Gray scoring a career high of 39 points.  If anyone was to be named Player of the Day, Gray wins without a doubt.  With only 1.1 second left on the clock, Gray made a game winning shot against San Diego for the win. Sports betting websites all over are calling this game one of the best in March Madness history.
The big Upset
Let's talk about the big upset with the Buffalo Bulls (13) taking down No. 4 Arizona 89 to 68.  Talk about a sad day for Arizona fans with this embarrassing defeat.  This game has destroyed many brackets and several sports bettors were not happy about the outcome. On the other hand, sportsbooks made very well from that game.

Buffalo did a great job with its defense against Arizona by keep the ball away from Deandre Ayton. Ayton still managed to finish the game with 14 points and 13 rebounds but was unable to dominate the game.  This defeat is the first time since 1996-07 that a school from the six major conferences failed to get past the first round.
First Round Results for Thursday
7 Rhode Island loses to No. 10 Oklahoma – 78-83
3 Tennessee defeats No. 14 Wright State – 47-73
4 Gonzaga defeats No. 13 UNCG – 68 – 64
1 Kansas beats No. 16 Pennsylvania – 76 – 60
2 Duke beat No. 15 Iona – 89 – 67
6 Miami loses to No. 11 Loyola (Ill.) – 62 – 64
5 Ohio St. loses to No. 12 South Dakota State – 81 – 73
8 Seton Hall defeats No. 9 NC State 94-83
1 Villanova defeats No. 16 Radford 87-61
5 Kentucky defeats No. 12 Davidson 78-73
6 Houston takes down No. 11 San Diego St. 67-65
3 Texas Tech defeats No. 14 Stephen F. Austin 70-60
8 Virginia Tech loses to No. 9 Alabama 86-83 Final
4 Arizona loses to No. 13 Buffalo 89-68
3 Michigan defeats No. 14 Montana 61-47 Final (Recap)
6 Florida defeats No. 11 St. Bonaventure 77-62 Final (Recap)