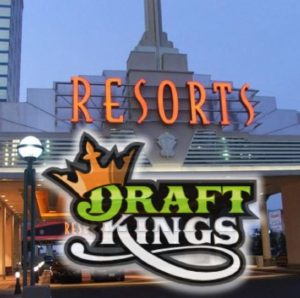 It's been two weeks since the Supreme Court announced that states could legalize sports betting and Draftkings.com is moving fast. This is because they are teaming up with an Atlantic City Casino to capitalize on the sports betting market. According to their statement, today, Draftkings signs Sports Betting Deal with Resorts Casino.
The deal between both companies will allow them to grab a larger of the legal sports betting market in New Jersey.  Furthermore, they agree that since sports betting will be new in NJ, the first companies will make a larger profit.
Draftkings plans to offer web-based and mobile betting opportunities along with the traditional sports betting options.  In addition, they will also offer numerous in-game betting opportunities to their clients.
Everybody knows there's a big opportunity out there"
Jason Robins, the CEO of Draftkings said that "Everybody knows there's a big opportunity out there". This is because sports betting is a new in New Jersey and gambling companies are looking for sports gambling partners. Furthermore, Robins said that since it such a big market with many opportunities, "Everyone should benefit".
Morris Bailey, the owner of Resort Casino is also very happy with this partnership.  Bailey says that "the market is huge" and wonders "how much of that market we'll be able to get". In addition, he is thrilled with the new revenue stream and considers DraftKings a "dynamic brand".

Robins also believes that DraftKings has the best position New Jersey passes a bill to regulate sports betting. In fact, earlier last month Robins had talked about entering the sports betting market and how they have been preparing since 2017. According to several sportsbook pay per head providers, a bill to regulate sports betting could be approve this month.
This is the second time a Fantasy Sports company has made a partnership to enter the U.S. sports betting market. Earlier last week, Paddy Power Betfair merged with FanDuel to enter the U.S. sports gambling market.