PricePerPlayer.com Sportsbook Software Solutions
Featured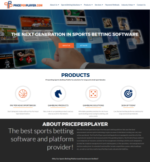 Detailed Description:
PricePerPlayer.com is a known company for anyone in the gambling industry.  They specialize in offering the best  sports betting software to clients all over the world.  They also offer sportsbook pay per head service to various bookies and sports betting operations.
With over 75 years of combined experience, this software company is one of the top bookie pay per head software provider in the business.  The company started in 2013 and is available in the following languages: English, Chinese, Vietnamese, Filipino, Japanese and Korean.
Sports Betting Software Features
Cross platform compatibility (will work on multiple operating systems).
Mobile abilities.
Menu and wagering options.
Modern and attractive interface options.
Real-Time line feed reliability.
DGS Instant Action
Single player account and e-wallet across all sales channels
Integrated gaming services for multiple sales channels
Incorporation of rich content, managed by centralized Content Management System
Seamless integration with third-party systems via our web service interfaces
Interfacing to external services, for betting events set-up assistance and for accessing comparison tools, and external monitoring system
End-to-end Security Framework, strong eligibility verification mechanisms and appropriate safeguards for maintaining data integrity and confidentiality
Sophisticated customer acquisition and retention mechanisms, enabling the deployment of wide range of cross-channel and cross-product loyalty schemes, bonuses and promotions
Multi – currency transactions and Multilingual support
Comprehensive Back Office Application to control platform's resources and functionalities
Send Message to listing owner