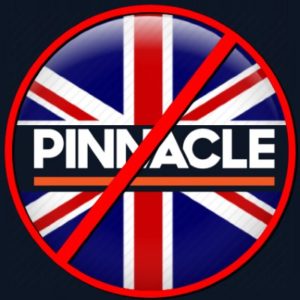 Online Sports Betting Operator Pinnacle.com announced that it is no longer interested in entering the UK's regulated online gambling market. The headline, Pinnacle Withdraws License Application to UK Gambling Commission was announced on Tuesday on their official Twitter Feed.  The message said" they had "withdrawn our license application to the UK Gambling Commission."
In addition, Pinnacle.com said that while it remained "eager to serve the UK betting market", now is not the right time to enter the UK Market. Furthermore, Pinnacle recognizes the disappointment it was bringing to potential UK customers. However, Pinnacle stated that the timing to enter the UK Online Gambling Market was not right.
"Pinnacle remains committed to bringing its low margins, high limits and unique winners welcome policy to the UK market when the time is right."
Pinnacle Shift in Focus
Sports Betting Software companies speculate the decision was made due to unknown delays in getting a decision from the UKGC. This is because the UKGC website has had Pinnacle's UK License application listed as pending for a long time.
This is not the first time that Pinnacle had applied for an online gambling license from the UK Gambling Commission.  Back in 2014, when it was still Pinnacle Sports, they withdrew from the UK market.  This was because they were looking to obtain a UK gambling license but it never came to light.

For the moment, they seem to have made a shift in focus with the launch of a "Pinnacle Solution".  Pinnacle Solution is a BtoB sports betting technology platform which is a spin on a sportsbook white label solution.
In addition, rumors have it that Pinnacle may be waiting to make their move back into the U.S. Gambling Market.  This of course will depend on which way U.S. Supreme Court will rule on the New Jersey Sports Betting case.  If the law goes in their favor, they hope to market Pinnacle Solution to U.S. companies.
---
About Pinnacle
Pinnacle has been in business since 1998 and is located and licensed in by the Netherlands Antilles Gaming Commission. They are famous for having the lowest bookmaking margin and the high betting limits in the business.