As Golden State celebrated their NBA Finals victory last week, the city of Cleveland once again came up short as the city has not one a major sports championship in 51 years. The Cavs and Indians have had some good teams in recent memory, but the Browns have been dismal since returning to Cleveland, and Cleveland Browns Stadium is known locally as a factory of sadness.  Simply said, Cleveland's NFL Futures are grim.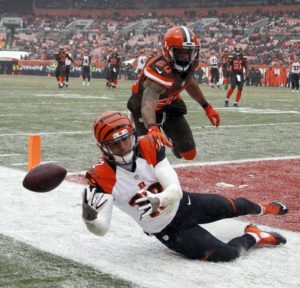 Online Sportsbooks are starting to post their NFL Futures, including Super Bowl Odds and team wins over/unders. Betting on futures has potential for good payoffs, and has the added bonus of allowing the bettor to hedge himself later on for guaranteed profit even if the team doesn't win the championship.
Browns at the Super Bowl
Nobody is picking the Browns to win the Super Bowl this year, as Cleveland is a huge 130:1 longshot over at most  sportsbook reviews websites. But can Cleveland turn things around and make a push for the playoffs? Not likely.
The best quarterback Cleveland has had in years left this offseason, with Brian Hoyer basically being run of town and picked up by the Texans. That means Johnny Football will be given another opportunity, although he certainly didn't earn another chance after his on-field play and off-field distractions. Manziel says he's taking the job more seriously now as evidenced by his retirement of his "money sign" and rehab stint in the offseason.
What he really needs is a receiving core and a running game to help him out, but the Browns don't have even average talent in those departments. Browns defense is underrated and probably even improved some in the offseason, but this team won't be able to score points.
The average team wins for the Browns at various online sportsbooks is 6.5 wins, and we expect them to fall well short of that number. Manziel can't be trusted based on his play against first-string defenses (check out his stat line in the Browns 30-0 loss at home vs. the Bengals).
Another factor is the strength of the rest of the division. Having to play Cincinnati, Pittsburgh, and Baltimore in the AFC North could result in a 1-5 or 0-6 division record, meaning the Browns would have to go over .500 against everyone else to beat the over/under number.
4-12 is a reasonable finish for this team that desperately needs to upgrade their offense at nearly every position. Cleveland could be mathematically eliminated from playoff contention by Thanksgiving, leaving Browns fans to plan a Thanksgiving NFL Vacation  instead of being caught in a playoff run!