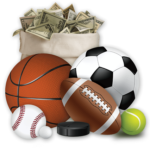 Small Sportsbooks Stay Innovative and Customer Friendly
Covid has helped many small sportsbooks. There is something about that little diner just around the corner that you frequent a lot. Sometimes, you end up eating all three meals in a day there. What is it that keeps drawing you in?
Whatever it is that keeps ou pulling into that diner, it's the same for small sportsbooks. Think about it. There are huge restaurant chains with much more recognizable names. You could easily drive to one, but you would rather hit your local diner.
THE HOW TO GUIDE: BETTING ON SPORTS
There are several massive sportsbooks in the industry with names that every bettor knows, but still bettors want that personal touch. They long for something different and they get it at smaller sportsbooks like America's Bookie.
These small sportsbooks continue to thrive. Here's why.
Family-Style Atmosphere
When you walk into the diner, the staff greets you and your family by name. They ask about your day, your kids, and more. It's the same at a small sportsbook.
America's Bookie, for example, is not only a world-class online bookie service, it also bends over backwards to take care of its loyal customers. Just like your favorite diner, this small sportsbook goes the extra mile to care for its people.
Editor's Choice: Getting Ahead in the Gambling Industry
Bonuses & Promotions
Sure, every sportsbook offers promotions and bonuses to its customers. They have to in order to win over new customers and keep existing ones. Some small sportsbooks – America's Bookie is a great example – offer a welcome bonus of up to 100 percent deposit match.
It's like there's free money everywhere with up to a 100 percent match on re-deposits. There are referral bonuses too which encourage customers to get their betting friends to become customers as well. It's like telling everyone in the neighborhood they should go to your diner because it has the best food in town.
LOOKING FOR NFL PICKS? TAKE A LOOK AT NFL WEEK 9 BEST BETS
The Special Touch by a Small Sportsbook
All sportsbooks, large and small, offer some type of promotion or bonus to get a customer in the door. It's what the sportsbook does after they have earned the customer that sets them apart from the competition.
Imagine being able to win money without placing a bet. The 33 Club at America's Bookie is a great example of what loyal customers of the sportsbook get as an added perk. Players make a deposit of a certain amount and they are automatically placed in this 33 Club.
The NFL 33 Club works like this. You pick a team to follow for the entire season. If your team scores exactly 33 points in any game – win or lose – during the season, you win $333. That's it. You don't have to wager on the game. You just win.
It's that type of special touch that keeps loyal customers coming back to your online sportsbook for more. It's like going to the diner and the owner picks up your check because you ate there 10 times this week.
It's these types of things that keep small sportsbooks like America's Bookie alive and thriving. Bettors don't always want to be just a number. They often like the family atmosphere and being treated like they are at their local diner. That type of service is what is keeping small sportsbooks alive in a massive industry.