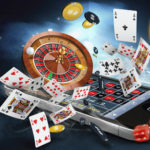 The Gambling Industry is Always Evolving
The gambling industry is believed to be tough to break into for all creators. People often think that luck is the only way to get ahead in gaming.
Luck can obviously help propel creators to new heights. Despite this, luck isn't the only thing to bet on if you want a shot in gaming.
LOW ROLLOVERS AND HIGH REWARDS AT AMERICA'S BOOKIE
Hard Work
Obviously, people that work hard give themselves more chances for success. If you put in the hard work to develop a great product, you will get more opportunities. You will face rejection along your journey, but the best developers never give up.
The best gaming developers got ahead because of their relentless drive to create their ideas. Don't underestimate the power of hard work in gaming. It will pay off as you continue improving your craft.
If you're looking to start a bookie business, using a quality pay per head service is the only place to start.
Find Mistakes That Are Worth Fixing
The process of developing a gambling industry product is extremely tedious. There are many ups and downs along the way because of how much technology goes into a final product. There will always be mistakes during development.
If you and your team are working on a project, never let your guard down. Even if everyone thinks your gaming product is flawless, don't be so certain. Look for coding that needs fixing because this is the best way to prove your worth in a group.
Big breaks are created, and this is certainly one way to give yourself an added opportunity. On the other hand, never try to fix something that doesn't need fixing. This can hurt you because you have the chance to mess up already solid software.
Be cautious, but don't be scared when it comes to mistakes in product creation.
Ask for Forgiveness
This tip goes along with finding mistakes that are worth fixing. If you don't shoot, you have a zero percent chance of scoring. If you believe you can fix or improve a product, take a chance and try. It's better to ask for forgiveness than permission.
Most of the time, bosses won't give blessings to fix something where they don't see an issue. To get ahead, you need to take risks because playing it safe never pushes you to the top.
MUST READ> WILL COVID-19 CHANGE THE BETTING INDUSTRY?
Always Be Learning the Gambling Industry
Knowledge will always help you get ahead in the gaming industry. Creating a gaming product has a ton of steps that require a variety of skills. Everyone has their own niche where they feel comfortable, but knowledge is always power.
Different opportunities will come across your path. The more you know how to do, the better a chance you will have to get your big break. Remember, it really isn't that hard this day and age to build a top online sportsbook.
If you have a chance to learn from someone outside of your gaming discipline, never turn it down. Being a sponge in the industry will never hurt you, so don't stop learning.
Final Thoughts
To get ahead in the gaming industry, you need to create your own opportunities. Never turn down responsibility or a chance to stand out. This will always help your odds of finding success in your gaming career.