Sportsbooks, especially those located offshore, seem to enter the industry all the time. Many of them fail. Even large sportsbooks with stellar reputations sometimes go belly up.
America's Bookie has stood the test of time and thrived as many sportsbooks have left the industry. Just staying afloat in the business is hard enough. Being the best is even more difficult.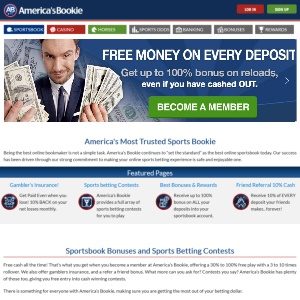 TAKE ADVANTAGE OF AMERICA'S BOOKIE EXPANDED BETTING BOARD
America's Bookie has set the bar for online sportsbooks in the modern world. It all comes down to one simple, yet sometimes forgotten, idea. Make the online sports betting experience safe and enjoyable for everyone.
Making It Fun
What's more fun than winning? Not much and America's Bookie is committed to its customer by offering a number of contests, rewards, and the absolute best bonus structure in the sports betting industry.
During football season, customers can enjoy the Football Squares and the 33 Club contests. For squares, simply make a deposit during the week and bettors have a chance to win half or all of their largest deposit that week.
The 33 Club
The 33 Club contest is one of more unique opportunities to win money in the industry. When you make a $300 (or larger) deposit, you are automatically entered in the 33 Club.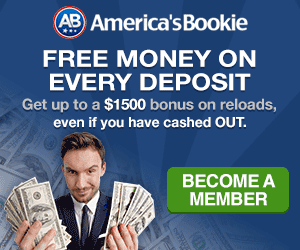 You pick one NFL team for the season. If that team scores exactly 33 points in a game, you win $333. What other sportsbook rewards players like that?
The bonus structure at America's Bookie brings players in and keeps players around. There is free money available all the time. In addition to a huge welcome bonus, players can receive up to a 100 percent free play bonus on re-deposits.
And then there is the referral program. Players can get a 10 percent bonus on their first referral, 15 percent on their second, and 20 percent on their third.
Somehow, there is still more. America's Bookie offers Gamblers Insurance on players' net losses. Players can receive 10 percent cash back on their net losses in a month. It's just another reward for being a loyal customer.
Behind the Scenes
Players see all the contests and bonuses, but what they don't see are the experts behind the scenes that help guarantee the best lines in the industry. One of the reasons why America's Bookie has been in business for over a decade is its experienced team of linemakers.
When you want to run a competitive, top online sportsbook, you have to offer the best lines available. America's Bookie takes the time to make its own lines with continual updates so that customers get the best possible value.This includes lines for sports all over the world as well as live betting lines.
Check out our recent article on the 2020 MLB Playoffs.
America's Bookie – A Name You Can Trust
In the grand scheme of things, bettors simply want a name they can trust and one that will be around tomorrow. With sportsbooks failing left and right, America's Bookie continues to serve its loyal customer base with the best bonuses, fast payouts, and the best lines in the industry.
More importantly, America's Bookie thrives at a time when others are leaving the industry by making the betting experience safe and enjoyable for everyone.

America's Bookie Sportsbook
Average rating:
0 reviews