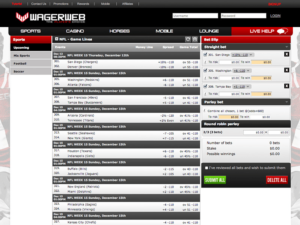 OUR RATING: 7.0 OUT OF 10
About Wagerweb Sportsbook
There are many sportsbook websites that you can choose to bet on, but not all of them will give you the same satisfaction that you would get from the best in the business. In our Wagerweb sportsbook review, we are taking a closer look at their betting software to see if they truly offer an amazing sports betting experience to their customers.
Much like sportsbook pay per head services, the quality of the software, the value in the lines, and other bells and whistles will be looked at, to be sure that our review is as complete as you need it to be.
Software: Proprietary
Inception: 1994
License: Costa Rica
Location: Costa Rica
Telephone: 1-888-428-4322
Email: support@wagerweb.com
Website: www.wagerweb.com/
Languages: English, Spanish
Country Restriction: None
Internet Wager: Yes
Telephone Wagers: Yes
Racebook: Yes
Online Casino: Yes
Live Betting: Yes
Sports Betting: Yes
Live Casino: Yes
Bonus: yes- welcome bonus and tournaments
Currency: USD only
Wagerweb Sportsbook Review
When we do our reviews, specially for sportsbook pay per head companies, we always lament the lack of innovation with their products. Obviously, they do spend money in their sportsbooks. After all, they are all running and capable of paying out and all that, right? But why are they not spending on improving their software.
Wagerweb is a sportsbook that has been in business since the early 00's. They do have a good customer base, but its pretty much a basic sportsbook site. For one, we do not see a lot of betting options as compared with other sportsbooks.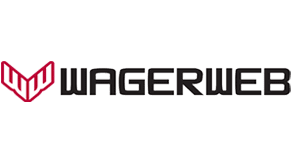 Wagerweb Sportsbook Bonuses and more
They do offer bonuses and tournaments, like any sportsbook. However, the amount is paltry compared to similar sportsbooks. 
Banking Methods
They have multiple payment options available. However, they only take in USD. Quite limiting, especially for those from other countries. 
Wagerweb Gambling Options
Their offerings are decent enough, but is nothing compared to really good online sportsbooks. It just makes us wonder how they still operate with an outdated site. They do have customer service, which is a good thing to have. 
Our Conclusion about Wagerweb
Wagerweb is a decent sportsbook. But until it brings itself to the current decade and improve their sportsbook, we will not be recommending them. Adapting to offer more betting options, more currencies, and 24/7 customer support would be a great thing for them to do.
Get the Best Sports Betting Software Solution Today!

Looking for a good sportsbook service?  Then check out our Sportsbook Reviews to see which sportsbook makes the cut and which one does not!
Wagerweb
Average rating:
0 reviews