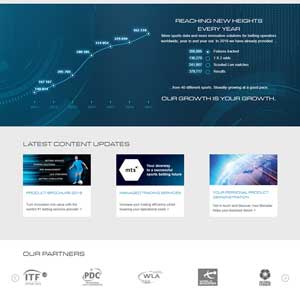 OUR RATING: 8.0 OUT OF 10
About Betradar Sports Betting Software Provider
Betradar is best known as the leading supplier of sports betting data services. However, it also has a bookmaker software that has several plug-ins. As a matter of fact, some of its features include collecting and analyzing data, managing online resources, and monitoring coefficients. Thus, this Betradar sports betting software review will look at the reasons why it remained one of the top sportsbook solutions on the market.
The Betradar sportsbook software provides dynamic functionality and better workflows. In fact, its software is used in more than 80 countries to date. It has a team composed of thousands of specialists from a wide range of industries working together to create a good product.
The Betradar bookie software is impressive. Also, its modular design will ensure its clients get what they want through plug-ins and add-ons.
Inception: 1995
Address:Feldlistrasse 2, St. Gallen
Country: Switzerland
Telephone: +41 71 517 72 00
Email: Support@betradar.com
Website: www.betradar.com
Pre-match Odds Service
Live Odds Service
Live Data Service
Esports Betting Service
Numbers Betting
Esports
Sports Betting
Sports Betting Products Offered by Betradar
Here are some of the plug-ins offered by the Betradar online sports betting software:
Statistical database – A sportsbook needs a statistics department to get the respect of players. Thus, Betradar provides a statistical database that lets users view the relevant information of a specific team or player. Also, it allows users to review data by seasons.
Match and live centers – Live betting will attract more players. In fact, the software updates the line in real-time. Also, it covers matches as they happen.
Livescore – Betradar provides bookies with live scores. It covers more than 40 sports worldwide.
Betradar Sports Betting Software Review
We tried out Betradar's online sports betting software to find out what makes it special. Its main feature is statistics. In fact, it has partnership deals with several sports associations that allow the company to use their sports data.
It is not a surprise why many sports betting software reviews give Betradar high ratings. Its team of programmers works hard in improving the software and plug-ins to ensure their clients have the advantage over their competitors. That's how Betradar stands out from other gambling software providers.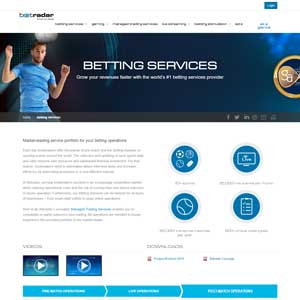 Review of Betradar Sports Betting Software
The software was easy to use. Designed for a worldwide audience, it features sporting events from all over the globe. The betting interface is user-friendly and easy to navigate. In fact, players can easily find the game they want to bet on.
In addition, players can monitor all their bets. There's no need to guide beginners how to use the sportsbook.
When it comes to player management, Betradar has all the tools needed to monitor and control all users. It allows the bookie to keep track of player's activities in the sports betting platform.
Our Conclusion about Betradar
In conclusion, Betradar provides a good sports betting platform. Live betting is a must-have feature of every online bookie business. However, it is expensive. You can find cheaper pay per head alternatives with the same tools and features.
Looking for a good sportsbook pay per head service?  Then check out our Sportsbook Pay Per Head Reviews to see which Pay Per Head Provider makes the cut and which one does not!
Betradar
Average rating:
0 reviews