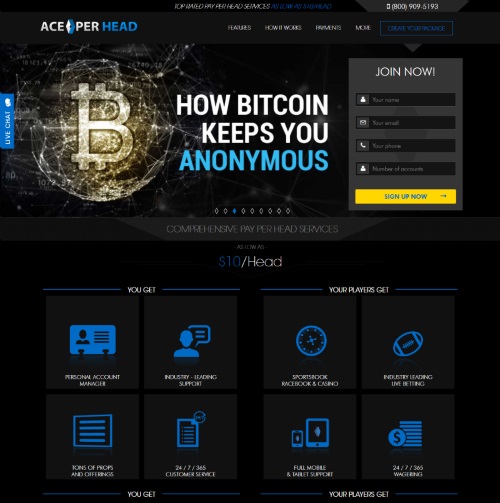 OUR RATING: 6.5 OUT OF 10
About AcePerHead Pay Per Head
AcePerHead.com is a sportsbook pay per head company that has been around since 1998.  This makes it one of the oldest PPH providers in the business which is quite a feat in today's industry. Our AcePerHead Sportsbook Pay Per Head Review will rate their PPH services to see how they do against the competition.
As a veteran in the PPH Industry, there is a lot of reviews about AcePerHead.com.  Some of the reviews are positive and many are negative.  Thus, we decided to get someone who has never heard of this company to do the review for us.
AcePerHead.com is geared towards the North American gambling market which is the norm for PPH providers located in Costa Rica. In addition, they are also known for having excellent data protection for their clients and a 7 layered DDOS protection.
Software: DGS
Inception: 1998
Cost Per Player: $10 and Up
Location: Costa Rica
Telephone: 1-800-909-5193
Email: info@AcePerHead.com
Website: www.AcePerHead.com
Sportsbook Pay Per Head Options
Internet Wager: Yes
Telephone Wagers: Yes
Racebook: Yes
Online Casino: Yes
Live Betting: Yes
Sports Betting: Yes
Live Casino: Yes
AcePerHead Sportsbook Pay Per Head Review
The main website is pleasing to the eye and really tells potential customers about the services they offer.  This is a nice change from other PPH services which often flood their sites promotional material and no real information.
Registering for their services was another matter as it is a long and tedious process.  The first step is to fill out the sign-up form which is then followed by an email from a representative. In addition, we had to call him in order to set-up the account and not the other way around.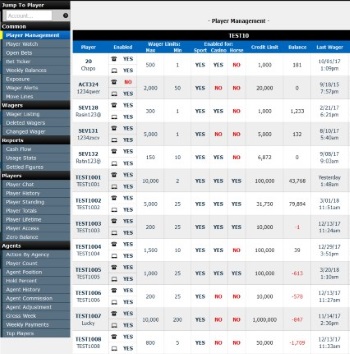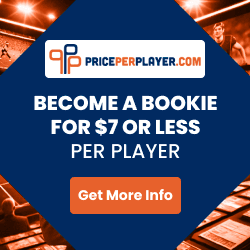 Thankfully it was only a test.  This is because it feels like their operation is only there to trick you into spending more money with them. For example, they advertise 6 Free weeks of services.  However, you have to make a $500 deposit with them first and it is only for the first week of the first 6 months.  Thus, in order to receive it, you have to make a large deposit and stay with them for 6 months.
Same thing with their "Deposit $200" and get a Free Website.  This only gets you a skin and in order to customize it, there is an extra cost for it. Furthermore, every betting option is an extra cost for the customer.  Want live casino, live betting or phone wagering? then be ready to pay more money for these services.
In the end, we deposited $100 to get us started on our review of their sportsbook pay per head platform.
The Sportsbook Pay Per Head Software
Despite the high prices and bad service they have a pretty good PPH platform.  This is because it is easy to use with a simple navigation system. In addition, creating and managing players is also very easy to do with tons of options.
Generating reports to see how your book is doing or how your players are doing is also very easy. You can pull-up cash flow and customer transaction reports, which is essential for player risk management.
Player Betting Interface
The player management website is average looking but since it is meant to only place bets, it does the job. Novice betters will like that placing a bet is easy to do and no tutorial is necessary.
Our Conclusion about AcePerHead.com
AcePerHead is a decent Sportsbook Pay Per Head Provider but the price does not quite justify the service it offers. This is because several other Sportsbook PPH services offer the same if not better service for half the cost.
However, they do offer live betting on golf which is not something you see very often.  Our recommendation is that you could do worst but because of their awful customer service we would pass on them.
Looking for a good sportsbook pay per head service?  Then check out our Sportsbook Pay Per Head Reviews to see which Pay Per Head Provider makes the cut and which one does not!
AcePerHead.com
Average rating:
4 reviews
Jun 6, 2019
Although it has all the features I look for in a pph service, they have many hidden charges. It is a good thing that I checked other pph providers before signing up with them.
Jun 5, 2019
Just ok
I don't like the idea of having to complicate things by paying more to get more features. I prefer another pay per head that offers me a single price that covers all that I need. Some things don't need to have 10 steps when you can get it done in just a few.
Mar 6, 2019
not worth the price
Stay away from them as you will pay a lot of extras for features that can be found with any other pph. Tried them out for a few months and their price rate is just too expensive for what you get and it really starts to cut in your profit margin. plus, their pph software is choppy and acqward at time. They do have good lines though ut for me, it just wasnt worth it. When I got over 100 players, and tried to see about getting a cheaper rate, they basically told me that I need twice that amount before they can get me a lower rate. Fuck em
Feb 27, 2019
So many added fees
Their site was good, and I was happy. Actually stayed there for 3 years until I realize that I was paying extra when in other sites it comes free with the package. Hate it when I get added fees as it eats into my profit.