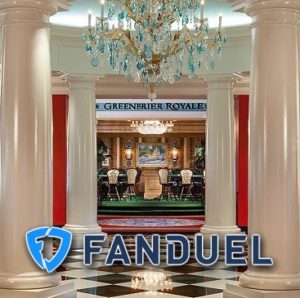 Last week the West Virginia Lottery Commission approved a set of Sports Wagering regulations during an emergency commission. Several sports betting companies were quick to take advantage of the situation in order to monetize on this new ruling. Thus, a deal was made where FanDual enters the Sports Betting Market with the Greenbrier in West Virginia.
Today's an announcement by FanDuel which was recently purchased by Paddy Power Betfair (PBB) was made on Pro Football Talk.  The announcement stated that FanDuel would provide sports betting to the Greenbrier, which is America's oldest golfing resort and casino.
This agreement marks the first sports betting deal by FanDuel's sports betting division.  Furthermore, this is a big stepping stone for FanDuel who before, only dealt with fantasy sports.
In order for FanDuel to enter the sports betting market in WV, they will have to pay a licensing of $100,000. Furthermore, The Greenbrier will also have to pay the 10% state tax on sports betting revenues.
An exciting deal for both companies
Both FanDuel and Greenbrier are very exciting about the newly created agreement. According to a statement issued to Pro Football Talk, FanDuel CEO Matt King was very happy with this deal.  King said, "We are honored to be chosen to provide sports wagering services at The Greenbrier".
"We look forward to bringing West Virginia residents, sports fans, and visitors to The Greenbrier the best interactive sports experience on the market."

On the other hand, Dr. Jill Justice, President of The Greenbrier further emphasized the excitement.  He said, ""We're excited to be able to offer this service". In addition, he believes sports betting will provide another great "element to the casino experience."
The Greenbrier is an 11,000-acre historic resort in the mountains of West Virginia that has 710 guest rooms.  In addition, the Casino Club at The Greenbrier opened in 2010 and includes 320 slot machines and 35 table games.
FanDuel is one of the most popular fantasy sports company in the world according to several sports betting software companies.  They are based in New York and pending regulatory approvals, will be part of Paddy Power Betfair by Q3 2018.
FanDuel.com is just the first of many more companies vying to enter the sports betting market in West Virginia.  According to several sportsbook pay per head providers, several of their clients are planning to enter the market as well.