How personally will the Minnesota Vikings take their defeat last week at the hands of the Detroit Lions, who had a 0-10-1 record? Perhaps that holds one of the keys to who might perform well enough to win on Thursday Night Football, where the Vikings host the Pittsburgh Steelers, beginning at 8:20 PM ET at US Bank Stadium. BetAnySports customers can watch it on the Fox Network.
There hasn't been much time to sulk over last Sunday's debacle, in which the Vikes fell behind by 14 points, then came back to take the lead, only to look somewhat helpless on a last-ditch drive, as Jared Goff led the Lions down the field. And an opponent that had not scored more than 20 points since the first week of the season hung 29 on them.
There were bright spots and rough spots. Justin Jefferson, the second-year receiver out of LSU, hauled in eleven passes for 182 yards. Tyler Conklin and KJ Osborn combined for eleven receptions and 103 yards. And that is significant, because they will be counted on pick up the slack for Adam Thielen, who had to leave the game with a high ankle sprain. He will not be playing on Thursday.
The Steelers pulled a bit of a surprise last week when they beat Baltimore 20-19.
They got 236 passing yards out of Ben Roethlisberger, and wide receiver Diontae Johnson had 103 of them.
The output from the Pittsburgh running game was probably not what coach Mike Tomlin had hoped. They would have loved to dominate on the ground with first-round draft pick Najee Harris, but that hasn't been the case. On Sunday he had 71 yards on 21 carries (3.4 per carry).
Minnesota is 5-7 straight-up and 6-6 against the spread. they are one of four teams (Atlanta, Carolina and New Orleans are the others) with that record and hanging on to some hope for the third NFC wild card spot. Pittsburgh is 6-5-1 (5-7 ATS) and a game and a half behind Baltimore in the AFC North. They are squarely in the middle of the wild card picture.
In the Thursday Night Football odds that have been posted at BetAnySports on this game, the Vikings are favored:
Minnesota Vikings -3 (-120)
Pittsburgh Steelers +3 (+100)
Over 43.5 points -110
Under 43.5 points -110
And remember that after the game begins, you can stay on top of the action with real-time wagers through Ultimate Lines, Premier Lines or Super Lines!
We know that Kirk Cousins is usually going to put up numbers, because he is a "numbers" guy.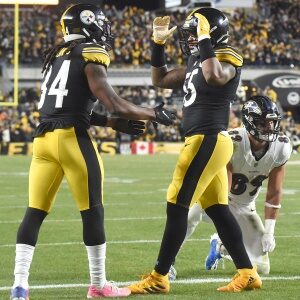 Last week he was 30 of 40 for 340 yards in the losing cause. We're wondering how much he's going to get blitzed; the Steelers beat the Ravens 20-19 and really put the pressure on Lamar Jackson, sacking him seven times. And with TJ Watt having returned, they are healthier than they've been on defense in several weeks.
Cousins is used to a lot of pressure; he's experienced it on 26.6% of dropbacks. But to his credit, he's been sacked only 18 times. So the short passing game is always something that is very much alive.
According to Sportsbook Pay Per Head Experts, the presence of Dalvin Cook could change things. He is one of the NFL's best backs, but he had to sit out last week with a shoulder injury. He was limited in practice, so it will likely be a game-time decision as to whether he'll be able to go. The latest is that he is "tredning toward playing," according to various news reports.
Cook has 771 rushing yards on 4.5 yards per carry. Out of his 198 touches this season, 52 of them have accounted for a first down. He would be an upgrade over Alex Mattison, who had 90 yards last week against the Lions but is only averaging 3.7 per attempt.
Certainly there are reasons to like Minnesota here. But the Steelers might be an appealing dog, because Big Ben can attack the Vikings' corners, who are weak. Thielen's absence means something, as 36 of his 64 catches have resulted in a first down. Could the Steelers get more of a ground game going? Minnesota is yielding 4.7 yards per carry.
And Mike Tomlin is not uncomfortable at all as the underdog; on an extended basis, he is 15-5-2 ATS in that role. So the points are definitely worth looking at here.
If you are signed up with BetAnySports, you can get reduced juice on this Thursday night game, in addition to a number of different ways to engage in real time wagering, including Premier Lines, Ultimate Lines and Super Lines….. Also, you can use Bitcoin as a very convenient method of making deposits, and there is never a transaction fee!