The Miami Hurricanes have never been to the Final Four. But that might change on Sunday afternoon. Jim Larranaga's team can punch their ticket, but they'll be in deep as they tackle the Kansas Jayhawks in a game beginning at 2:20PM ET at the United Center in Chicago.
If you're a customer at BetAnySports, you're a lucky person, as you can not only get reduced juice, but also the opportunity to make real-time wagers, accessing what is available through Premier Lines, Ultimate Lines and Super Lines.
According to online iGaming Platform news, Miami has been impressive, to say the least. After a nail-biter in their opening round game against USC, they have been dominant against both Auburn (79-61) and Iowa State (70-56) and it is fair to say that they are carrying some momentum into this contest. You can't forget that Larranaga has been down this road before, having pulled off a big surprise in 2006 when he took George Mason into the Final Four. Going into this season, there was some question as to whether the 71-year-old coach should continue. And it became magnified when they were rolled by the likes of Dayton (76-60) and Alabama (96-64). And in-state rival Florida State, which was not a Big Dance participant, executed a season sweep against them.
But this team came together in the second half of the campaign. And all indications are that it was just a matter of a number of transfers jelling. This is an experienced team, where the youngest starter is Isaiah Wong, who is 21. Point guard Charlie Moore is playing for his fourth different school; he was actually a member of the Jayhawks in 2019.
Miami's win over Iowa State, also a Big 12 entry, was highlighted by 27 points from Kameron McGusty (a transfer from Oklahoma – yes, a Big 12 school) and 18 forced turnovers. That's something Miami will be counting on, as they exert pressure on the defensive end.

Elite 8 Basketball Betting Odds – Miami vs. Kansas
In the Elite Eight basketball betting odds posted on this game by the folks at BetAnySports, Kansas is the favorite:
Kansas Jayhawks -5.5
Miami Hurricanes +5.5
Over 147 Points -110
Under 147 Points -110
To stop the Jayhawks, you're going to have to somehow control their guy in the middle, David McCormack, who is dangerous on both ends. Kansas is the team that is more likely to pull down offensive rebounds, and McCormack is the focal point of that, as individually, he is fourth in the nation in Offensive Rebounding Percentage.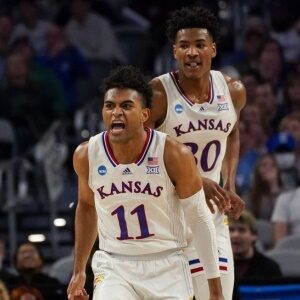 A big bonus for the Jayhawks is the star play of Remy Martin, an Arizona State transfer who missed some time this season with knee issues but has come off the bench to score 20 points against Creighton and 23 against Providence. He has made 20 of 35 shots from the field (57%) in this tournament.
Kansas, on an overall basis, is not quite as explosive as they have been in recent years. They are pretty good shooting from anywhere, but not sizzling. They will rely on second chances, and that is something Miami has to contend with.
But the Jayhawks are really showing some defense. They are allowing just 30% from the arc (in the nation's top 25). And in the NCAA's, they have limited their opponents to just 37% from two-point range.
Miami's defensive numbers have not been stellar on an overall basis – they are 237th in the nation against three-pointers and 299th against two-pointers., But they come into this game with a +4.6 turnover margin per game. And as we mentioned, they are very experienced. Both of these squads have been known to make their opponents work for their shot, with an average of almost 18 seconds per possession on the defensive end. It would not surprise us to see this evolve at a slow pace, and therefore land UNDER this posted total.
It's down to the nitty-gritty, and there are goodies awaiting you at BetAnySports during March Madness, as you can get reduced juice, as well as real-time wagering through a number of different processes……… Make your deposits with a credit card, or the digital currency of Bitcoin, for which you will never incur a transaction fee!