Internet in Belarus shut down due to the protests in the country. It is the reason why the Belarus gambling software industry is facing some difficulties. According to bookie software reports, internet disruption forced 500 executives to sign an open letter.
The letter stated that the achievements of the IT industry, including the online software industry, will be lost. At present, the IT industry has 60,000 employees. SoftSwiss group of companies reported that around 60 employees from Belarus would relocate overseas.
Internet connectivity problems affect gambling software development. SoftSwiss said that it has around 400,000 players in more than 60 projects. Also, the players require support 24/7. The company has several hundreds of workers within Belarus. If the situation doesn't improve, it might move all workers to another country with a stable internet connection.
Belarus Gambling Software Industry in Peril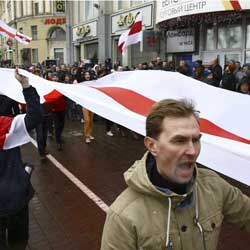 SoftSwiss joined the initiative to help people suffering from the regime with financial support, according to sports betting software reviews and news sites. Volunteers provide help of any kind throughout the day.
SoftSwiss invites other companies to join the initiative. People and companies willing to contribute to the initiative can contact SoftSwiss. They are more than happy to accept the help of any kind.
Now is not the time to learn how to be a bookie in Belarus. President Alexander Lukashenko is not showing signs of giving up his position. Both the European Union and the US criticized his reelection as not being fair.
At present, the government is increasing security as people continue to protest on the street. Protestors continue to go out despite threats of arrest and persecution from the government. Also, people are wary of wearing white and red because the government can punish them for their clothes.
White and red became the colors of the opposition in the country. They are the colors of the old Belarus flag before Lukashenko introduced a red and green flag.