We are less than a week away from Super Bowl 50, taking place this year from Levi Stadium in Santa Clara, California. Home to the San Francisco 49ers, Levi Stadium does not have a dome, however weather is not expected to be a factor as early indications point to no threat of rain, and temperatures in the 60's.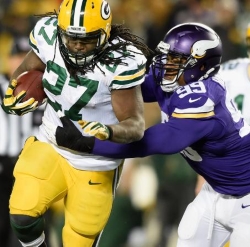 Big quarterback matchup this year with Denver QB Peyton Manning perhaps playing in his last game of his career, while Panthers QB Cam Newton is quickly becoming one of the most recognizable players in the NFL.
Newton is trying to become just the fifth players in NFL History to win their Heisman Trophy in college, then win an NFL Super Bowl MVP. The sportsbook reviews websites list Newton as the favorite to earn that distinction with -130 odds. Peyton Manning is the second choice to earn MVP honors with a +275 payout. Nobody outside of the two quarterbacks are returning anything less than 14:1 odds.
This is also the first Super Bowl featuring a pair of quarterbacks that were taken #1 overall in their respective NFL drafts. Newton's Panthers lead the league in points per game scored, but they face a Denver defense that ranks the best in terms of total yardage allowed. The online sportsbooks favor Newton's offense over the Denver defense, having Carolina as a solid 5.5-point favorite.
According to the latest sportsbook pay per head info, Denver and Carolina will be hard-pressed to beat out last year's viewership, which set a record with an average of 114.4 million viewers – the most-watched telecast in American history. This game does have a chance to break that record, however, with this perhaps being Manning's last game. Speaking of television, there will be 70 different cameras used to cover this year's big event.
There is still time to get in on 1Vice.ag's $10,000 Super Bowl Squares Contest . Last year, the 4-4 square won twice. The Patriots and Seahawks were held scoreless after the first quarter, and both teams scored two touchdowns (and extra points) in the second quarter for a 14-14 tie (4-4 square won). Seattle scored ten points in the third quarter while New England was held scoreless, so the 24-14 lead had the second quarter's winner cash in again. New England scored two touchdowns in the final quarter while shutting out Seattle, however the Seahawks had one of the most controversial play calls in Super Bowl History which kept them from winning the game (and changing the winner of the biggest prize on the Super Bowl Squares).
We'll check in later this week to break down Super Bowl 50 from a handicapping perspective, as well as check in with some of the prop wagers available on the big game!