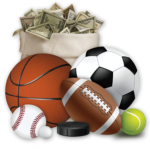 Understanding Sports Betting Odds is Critical
What do you know about sports betting odds? If you are going to be a bookie or a sports bettor it is critical to understand sports betting and the odds that go with it. Each sport is different and it takes years to learn.
Key Points
Learning to read betting odds is a must if bettors want to have success.
Betting odds can be expressed in different forms.
If you are looking to have some success in sports betting, it is helpful to understand how it all works. You should be aware of some of the lingo – juice, for example – and you should definitely have a firm grasp of sports betting odds.
The -110 that you see next to your bets has some meaning and you should understand that meaning. You should also understand that -110 might appear differently at different sportsbooks.
Here is a guide to understanding sports betting odds.
Reading Sports Betting Odds
There are three ways in which odds can be displayed. We typically see American odds which are expressed as a positive or negative number. They are also known as moneyline odds.
                        Kansas City     -320
                        Washington     +260
Above, we see an example of an NFL game with American betting odds. The team with the negative number is the favorite and the underdog is shown with positive odds.
American odds at your top offshore sportsbook are based on how much a bettor needs to wager in order to win $100. In our example, we would need to bet $320 on the Chiefs to win in order to win $100. If we bet on the underdog, a $100 bet will win $260 if Washington pulls the upset.
Sports Betting Odds – Knowing the Different Forms
Odds can also be expressed in fractional form or in decimal form. Fractional odds, such as Liverpool 5/2, are typically used in the United Kingdom.
Editor's Choice > Why Line Movements are Important
Decimal odds are used throughout Europe, Australia, and Canada. Many bettors think decimal odds are the easiest to understand. In a soccer match for example, Germany may be given odds of 2.5 to win. If you place a $10 bet and Germany wins, you win $25.
Bettors can use any number of betting calculators out there to convert decimal or fractional odds to American odds and vice versa.
Point Spreads & Odds
You will also find American odds listed next to a point spread. The odds will indicate how much you have to wager. They do not have anything to do with what must happen to win the bet.
Take the following example.
                        Penn State      +6.5 (-110)
                        Michigan          -6.5 (-110)
The point spread in this example is 6.5. For bettors to win on Michigan, the Wolverines must win by at least seven points. Bettors on the underdog, Penn State, will win if the Nittany Lions either win outright or lose by six points or less.
The odds in parentheses are commonly referred to as the "vig" or the "juice." Essentially, it is the commission that the sportsbook earns for taking the bet.
In this case, you will need to wager $1.10 to win $1. If you bet on Michigan and they won 27-20, the Wolverines covered the spread and you are a winner. A $100 bet would payout $190.91, which includes your $100 stake plus the $90.91 you won on the bet.
Do you want to get started betting on horse races? Here's your first lesson, Horse Racing 101.