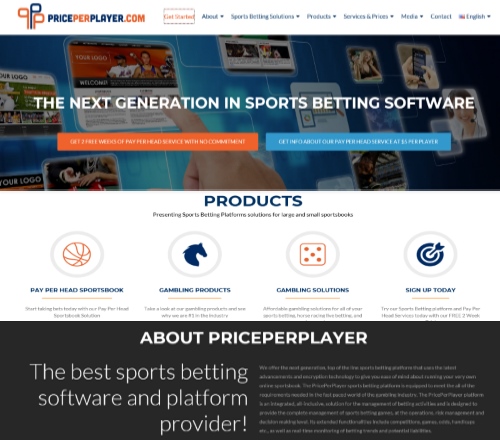 OUR RATING: 9.0 OUT OF 10
PricePerPlayer.com has a great looking website that is easy to navigate.  Opening an Pay Per Head account with them is fast and easy.  In this PricePerPlayer.com sportsbook pay per head review, we will look into who they are, what they offer, how good is their service and the cost of doing business with them.
This company uses the DGS sportsbook software which is popular in the North American market.  They have been offering their services since 2013 but did not go public until 2015.
PricePerPlayer.com General Info
Internet Wager: Yes
Telephone Wagers: Yes
Racebook: Yes
Online Casino: Yes
Live Betting: Yes
Sports Betting: Yes
Live Casino: Yes
PricePerPlayer.com Sportsbook Pay Per Head Review
At first glance, their website looks great.  It has a very professional look and is available in 6 different languages.  These languages include: English, Japanese, Filipino, Korean, Chinese and Vietnamese.  Their website is very detailed as to the type of services available and even has a tutorial section for their sportsbook pay per head software.
We signed up for their service and found that the registration form is very simple and does not ask for any personal information.  All you need to enter is the type of account you want, a username and password.
We found it interesting that you have the choice between signing up as an agent (a regular pay per head account) or as a distributor.  A distributor allows you to have other agents under your account to maximize your profit.  Basically, it's like being an agent with sub-agents below you.
After filling out the form it took we were instantly able to start using their bookie pay per head service. Just a few seconds after pressing the submit button, we received an email with the instructions on how to access our sportsbook pay per head account.
The Sportsbook Pay Per Head Software
The Sportsbook Pay Per Head Software interface was good.  It was by no mean extraordinary but it was pleasing to the eye and easy to use.  We like that they have many different reporting options and that you can easily set date range for reports.
Managing wagers is also very easy which is an advantage as you have complete control over a layer's betting action.  In addition, you can easily see the cash flow and customer transaction.  There is even a way to filter all of the financial transactions by layers, date range and more.
Even though the pay per head interface is simple, it does give you a large array of option that makes managing your sportsbook very easy.
Player Management
Creating a player was very easy and we liked how you can create as many players as you want.  Our only rant is that there is no option to delete a player.  In order to delete a player, you have to contact them.
One advantage of using this sportsbook pay per head software is that you can use it to open a credit shop or a post-shop or even a combination of the two.  This is because you can control how you deposit or add credit to each individual player.
In short, this software contains all of the options necessary to manage your players from setting limits to deciding what you games they can play.
Our Conclusion about PricePerPlayer.com
We must say that we were impressed with the PricePerPlayer.com Sportsbook Pay Per head Software.  They have excellent customer service and a solid Pay Per Head Software that gives you all of the right tool to open a full sports betting website.
Even though the Sportsbook Pay Per Head interface is not as modern as we would want it, it does the job very well. It even has a Prop Builder that allows players to create prop bets. The feature can attract more players to your sportsbook.
At $5 per player, this is the best bargain out there for everything you get.  There is no hidden fee and all of your players get a full sportsbook, live betting, casino, live dealer casino, internet and phone service.  You just can't beat a deal like that!
Looking for a good sportsbook pay per head service?  Then check out our Sportsbook Pay Per Head Reviews to see which Pay Per Head Provider makes the cut and which one does not!
PricePerPlayer
Average rating:
4 reviews
Jan 27, 2020
Impressive PPH
I went through several PPH providers to find the right one and found PricePerPlayer to have the most cost-effective solution on the market today. I've been with them for almost a year now and will most likely stay with them for the long run.
May 15, 2019
my PPH of choice
I used several PPH solutions in the past but I prefer PricePerPlayer. I can easily monitor my players and can reach their customer service hotline when I have any questions about their services.
Mar 4, 2019
Good Pay per head!
I have been running my sportsbook for 3 years already. I have had no complaints, and my players are pretty happy with out setup as well. I have no problems telling people to join price per player to help them become a bookmaker. Their services will speak volumes in assuring people of the good quality.
Feb 22, 2019
Saw this review last year and I signed up. You were right. I've been with them for a while now and I am very very satisfied, thanks for the review you made. They are not expensive too!