In times of distress, sportsbook operators like us must consider leaning on more experienced, established, per head services. One of those is PayPerHead.com. The company has been around since 1997. It currently provides sportsbook software to over 13,000 online bookies with 56,000 players.
The most important aspect of any bookie's business is sportsbook offerings. In that respect, PayPerHead® is at the top of the PPH food chain. Bookies won't find another company that provides more betting options. This includes options for horse racing and casino.
After betting options, the second most important feature for bookies is the ability to maintain cash flow. The Agent Payment System (APS®) allows for quick player deposits, and immediate payouts and collections.
PayPerHead's unique value proposition
Individual bookies are small business owners. For us to go in with a per head service, we must first know their value proposition. PayPerHead's unique value proposition is to offer the most features for the fairest price.
But if you're looking to get the best for your budget, you won't have to search past PayPerHead. Check out a list of features that PayPerHead offers.
A layoff account that allows bookies to "lay off" wagered dollars
The Agent Payment Solution (APS®)
24/7 Online & Phone Wagering
Multilingual customer service agents available via chat, email or over the phone
80+ Leagues, eSports and racebook
Both a live dealer casino and a self-serve digital casino
Professional SharpCheck® Service
TruLive® Wagering And TruLive+ In Game Betting.
SharpLine® Access
An Instant Action Ticker
Fully customizable limits at the player level
Fully customizable sub-agent limits and selectable line types
SMS and email notifications system for problem players you want info on without logging in.
Custom digital casino limits and profiles.
Manual line mover option.
The Oracle Network – A professional bookie online resource
PayPerHead® pass-on player features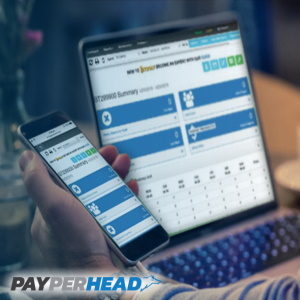 PayPerHead® also offers pass-on player features. We know that even if a per head shop provides everything we require; it doesn't matter if their players aren't happy. That's why PayPerHead® has spent as much time thinking about our customers' needs as ours.
In addition to the user-friendly betting interface, PayPerHead® offers both TruLive® Wagering and TruLive+®.
When major sports start up again, your players can access over 900+ live wagering events depending on the season and time of year. This includes live wagering on international sports.
We mentioned the two different types of casino offerings, digital and live. But the company also has a PayPerHead® Poker room in the works. Poker has become a popular choice among all types of bettors, sports or otherwise.
PayPerHead® is a crypto believer
Cryptocurrencies, especially Bitcoin, have revolutionized the way individually operated sportsbooks make payouts and collect. PayPerHead® accepts multiple types of cryptocurrency, including BTC, Ethereum, and BTC Cash.
Cryptocurrency allows players to stay anonymous, which is what most of our customers prefer. All transactions, crypto, or fiat currency, go through the APS®. PayPerHead® keeps the APS® secure with encrypted software.
PayPerHead® is the right choice for all bookies
Based on the value proposition, player pass-on features, and experience in the per head services industry, PayPerHea®d is the right choice for all bookies.
Right now, the company has a great promotion for sportsbook operators looking to change PPH vendors. Contact PayPerHead at 800-605-4767, or chat with a rep on their website.