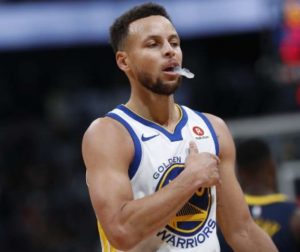 After missing his last 6 games due to an ankle injury, Curry will be back on the court tonight.  Last Thursday, Steve Kerr, head coach for the Golden State Warriors told reporters that Curry would play in against the Hawks. The news that Stephen Curry is back on the court tonight has fans and sportsbooks wondering how it will go.
This is Curry's fourth ankle injury for this season and ironically, he will be switching to low-tops shoes at tonight's game despite his ankle issues. The shoes he will be wearing are the new "Under Armour Curry 5s" that have been engineered to "maximize" performance.  In addition he will be wearing ankle braces when he plays against the Atlanta Hawks.
Despite a lot of skepticism by sports betting software providers, Curry insists that he will be able to play at his usual elite level.  According to the Chelsea Lane, the head performance therapist for the Warriors, "There is no reason he shouldn't be playing right now.
With only 11 games left in the regular season, Curry thought that it was time for him to get back in the action.
Stephen Curry will not be playing at 100%
Kerr said during an interview with Anthony Slater that Curry is close to being 100% healthy but not quite there.
"I think there's things to be gained from a summer of some rest and specific rehab that we won't be able to address now. Everything we have been able to address, we've addressed. I think he's good. But I wouldn't tell you he's 100 percent."
After two weeks of rehab Curry is feeling good. He said that he's taken a "patient approach to trying to get as close to 100% as possible". Despite Curry not being at 100%, the Golden State Warriors need him back on the court as they have lost their last 4 games out of 6.
The sports handicappers currently have the Golden State Warriors as a -10 favorite against the Atlanta Hawks.  The Hawks need a feel good victory after losing 8 of their last 10 game. However, with Curry back in action, it doesn't look good for them according to most sports handicappers.