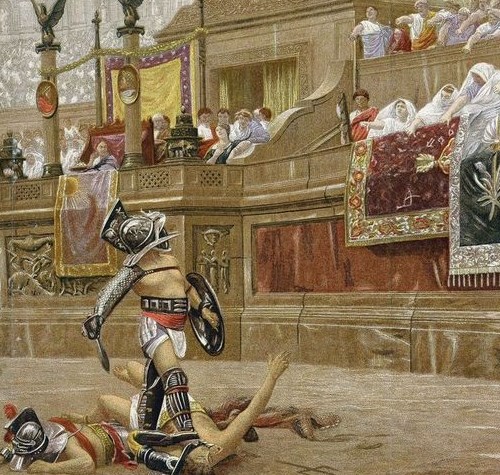 For many decades, our species have found ways to redirect our nature of survival of through fittest through competition of will.  Since the dawn of civilization, man has created activities that veer us away from our nature towards cannibalism and war.  We have gone a long way in the history of gambling.  Thus our Guide to Online Sports Betting will provide the info you need to bet online in the modern world.
Early History of Sports Betting
To occupy themselves, man took part in the arts, some in the individual physical activities but most took up sports.  From the early years of playing with pebbles and stones to sports, there has always been one constant: sports betting.
Emperors, Kings and slaves were all equal when athletes competed against each other.  Sports became a unifying activity for all classes of people. While this was going on, the masses would bet on the outcome against each other.
Sports Betting in the Modern World

Sporting Events Leads to Sports Betting
In today's modern world, all sporting events can be seen live though the Internet or on the television. In addition, you can pretty much view any type of sports on the on the planet thanks to modern communication.
The online betting industry has also grown into a billion dollar industry because of several reasons. The main one is because of the ability to place a bet on any sport at any time.
To give you an overview of how to start taking part in this emerging industry here are some tips to follow.
Online Gambling Guide: Tips to Online Betting
Setting Limits for Yourself
Any sports betting tutorial should start with setting your limits.  Online sportsbooks and sports betting software companies will not set the limit for you.  You can go crazy aggressive or conservative depending on how you feel like it.  So do yourself a favor and set your own limits so that you do not encounter any problems settling if and when you lose.
Finding an Online Sports Betting Provider
When you ask yourself how you can bet on sports online, the next thing you must do is find the most reliable and reputable online sportsbook.
Ask friends where they bet or take online surveys to know where you can play and you can have peace of mind that your money will be safe. In addition, look for gambling reviews or sportsbook reviews on the internet.  They are several websites and forums that keep players updated on reliable sportsbooks.
How to Fund Your Betting Account
The next step is to fund your betting account.  Two popular ways to do this is by using money-sending services such as Western Union or MoneyGram and by using your credit card.  Some sites even waive the Western Union fees for a minimum deposit.  Just take note of the inclusivity of you country in using these services.  It is certain that credit cards are accepted across the board.
Another method which has gained popularity in the past year is Bitcoin and other type of cryptocurrencies.  This is because it is an anonymous way to send and receive money for gambling purposes.
Now you are ready to bet and this is the easiest and most fun part.  You do your research, look at the odds given and bet.  Just an important note: there are no refunds or take backs when betting online.
Once you win, collect your winnings. Make sure you are informed of the schedule of release of winnings when choosing an online sportsbook.
Fun Facts about Sports Betting
The United Kingdom is the recognized world leader for sports betting. In addition, the most popular bet in the UK is not about sports betting by about the weather during the Christmas season!
The UK can thank or blame the Romans for popularizing gambling in Britain
Before the beginning of the third millennium, the bookmakers started taking bets on the End of the World.
The most popular bets involving the Superbowl is the coin toss.
Thanks to the Sportsbook Pay Per Head industry, it is possible to open an online sportsbook for $200 or less
Approximately 67% percent of college students bet on sports.
The most popular sport to bet on in Asia is cricket.
9% of athletes bet on sports at least once a month.
The happier you are, the more risks you will take when you bet on sports.