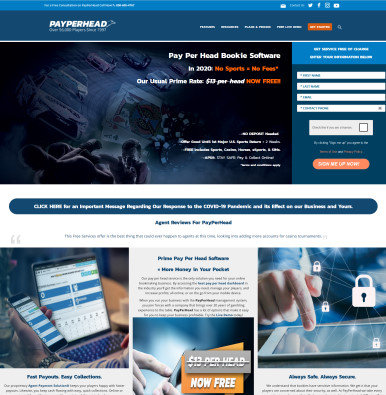 OUR RATING: 9.5 OUT OF 10
PayPerHead.com PPH Provider
PayPerHead.com offers industry-leading sportsbook software solutions. PayPerHead agents provide their clients a top class sports betting platform, a digital and live casino, and a premium racebook. Our PayPerHead.com Sportsbook Pay Per Head Review gives you the straight up facts about this PPH company.
PayPerHead started in 1997, making it one of the oldest per head service providers in the industry. The company has the experience to keep bookies competitive. In addition, the organization has a reputation for having a great customer service and support department. PayPerHead's customer support department is open 365 days a year. 
With over two decades of experience in the per head business, it's no wonder many consider PayPerHead the King of the PPH industry.
Regarding sportsbook software, clients have the option to use the DGS or the ASI betting platform. DGS and ASI are the two best betting platforms available.
Pay Per Head General Info
Software: ASI and DGS
Inception: 1997
Cost Per Player: $10.99to $13 per head
Location: Costa Rica
Telephone: 1-888-978-0288
Email: Contact Us
Live Chat: Yes
Website: www.payperhead.com
Internet Wager: Yes
Telephone Wagers: Yes
Racebook: Yes
Online Casino: Yes
Live Betting: Yes
Sports Betting: Yes
Live Casino: Available with Prime
Private Website: Available with Prime
PayPerHead.com Sportsbook Pay Per Head Review
It took just a couple of minutes to open a sports betting agent account.  PayPerHead made the process seamless, which is great. It required no phone calls or emails to get started.
 All we had to do was provide some basic information, hit submit, and that's it. After submitting, we could login and get started.
After logging into our newly created bookie agent account, we noticed the clean and easy to understand dashboard. Although it shouldn't be, efficiency is rare in the pay per head industry. Most PPH services try to cram as much information as they can onto each page.
PayPerHead's agent dashboard is also customizable. That allows bookies to set up the dashboard that works best for them.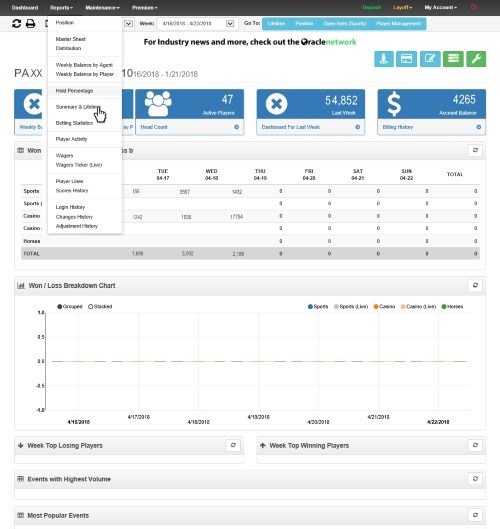 Per head agents can run their entire sportsbook from the dashboard. PayPerHead's agent dashboard clearly designates where bookies must go to manage player accounts, change sports offerings, or use their layoff accounts.
The Sportsbook Pay Per Head Software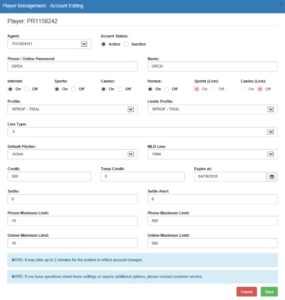 There's nothing fancy about the betting platform. But there shouldn't be. Players want to access wagering platforms, find the bet they wish to make, and then make that wager. One significant add-on, which is why bookies should go with the Prime plan, is a live dealer casino.
The live dealer casino provides a Vegas-like feel. One of PayPerHead's reps told us that from January 2020 to May 2020, betting handle in the live dealer casino rose significantly.
The betting options are second to none. Players can wager on sports from 80+ different leagues. PayPerHead even offers wagering on the NY Lottery, U.S. politics, and all eSports and sim sports.
The company's TruLive Wagering platform provides the most live betting opportunities of any per head company we've encountered.
Pay Per Head Sports Betting Tech
It's easy to manage players, check player reports, and other betting statistics. PayPerHead is one of the few companies that combines services. The layoff account is a great example.
Bookie agents can set up a BetAlert. The alert pings the agent after a player makes a wager. Bookies can then go into their layoff account and cut risk on that wager. The company provides an excellent blog section that offers top notch advice on how to use their tools as well as general information on the sportsbook industry.
One of their most valuable features is the Agent Payment Solution (APS®). The APS allows agents to collect or make payouts in both traditional currency or cryptocurrencies like Bitcoin or Ethereum. Players can deposit via cryptocurrency through the APS.
The Agent Payment Solution speeds up financial transactions. At the end of the day, that's the most important part of any business, not just a sportsbook operator's.
Our Conclusion about PayPerHead.com
We highly recommend using PayPerHead.com. The company provides excellent betting platforms, a great customer service team, and most importantly, a willingness to keep up with sports betting technology.
Right now, PayPerHead.com has a no sports equals no fees promotion. Per head agents can access their leader of the pack sportsbook software for free until major sports resume. The promotion extends to two weeks after major sports return. U.S. sports should start up in mid to late July.
That gives bookies more than a month to check out their software. After the promotion, we strongly recommend signing up with PayPerHead Prime. With Prime, per head agents get competitive rates on a live dealer casino, access to the TruLive Wagering platform, a branded website, and loyalty benefits.
ACT NOW and Pay Nothing Until U.S. Sports are Back and 2 Free Weeks!


Looking for a good sportsbook pay per head service?  Then check out our Sportsbook Pay Per Head Reviews to see which Pay Per Head Provider makes the cut and which one does not!
PayPerHead.com
Average rating:
4 reviews
Jun 7, 2020
Good service and platform
Hey, just wanted to drop a note for bookies looking for a Pay Per head. Been using these guys for abot 4 years and I have never had any problems with them. Their customer service people are great and all of my players love them. I love their agent platform and it has never let me down. if you want a PPH you can rely on, payperhead is the way to go
Jan 23, 2020
they turned my business around
thanks to payperhead, my business almost doubled because after switching to them. Their bookie software does a great job managing my sportsbook which gives me more time to expand my business
Dec 11, 2019
Okay But...
They are good but if I wanted the whole shebang I will shell out more than $12 per player. This is a bit too much for me. Switched over to a similar site but with a better price and some added features as well.
Jun 5, 2019
Best sportsbook software ever
I strongly recommend using this PPH. They have top notch service and the best sportsbook software my players have ever used.