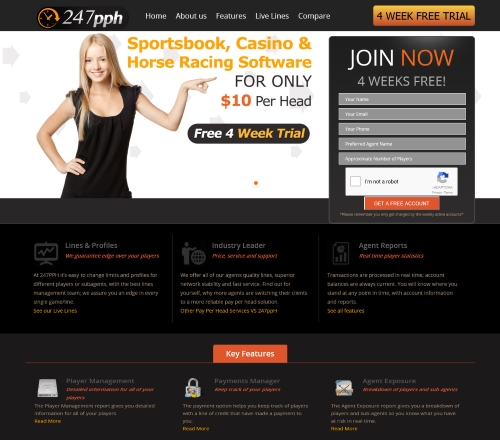 OUR RATING: 6.0 OUT OF 10
About 247PPH.com Pay Per Head
Getting started with 247PPH.com Sportsbook Pay Per Head Review, all we can say right off the bat about them is that they are your average Sportsbook Pay Per Head provider.  They are a part of RDGCorp which has a dubious reputation in the sportsbook world. In addition, they claim to have been in business since 2005 even though their website was not registered until 2011. This did make us wonder but hey, everyone tends to exaggerate right?
On the plus side,we have never heard any complaints about them as a sportsbook pay per head provider.
Software: DGS
Inception: 2011
Cost Per Player: Starts at $10 per player
Location: Costa Rica
Telephone: 1-888-200-1112
Email: n/a
Website: www.247pph.com
Internet Wager: Yes
Telephone Wagers: Yes
Racebook: Yes
Online Casino: Yes
Live Betting: Yes
Sports Betting: Yes
Live Casino: Yes
247PPH.com Sportsbook Pay Per Head Review
At first glance, their website looks great and has a very professional look but as we delved closer, the website did not have the details we wanted in order to make an educated decision about using their service.
After filling out the form it took about an hour before we received our login information.  One thing we did not like is that if we wanted our players to have access to telephone wagering, the cost went from $10 to $15 per player per week.  This placed them in the high end of the bookie pay per head service in our book.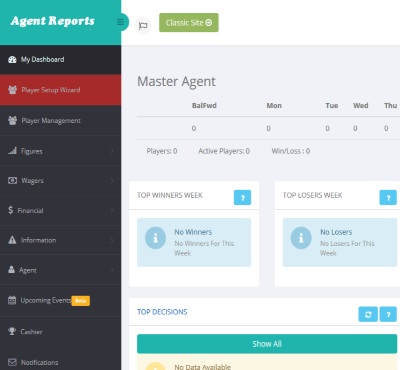 The Sportsbook Pay Per Head Software
The Sportsbook Pay Per Head Software interface was not pretty but it was simple and easy to use. Creating and editing players for the sportsbook was a breeze.
We liked that they had a tutorial on the Dashboard but once you clicked on an image to zoom in, a mess began.  The problem is that a kind of html pop up comes up and it took us a while to figure out how to get rid of the  zoomed image.
We also realized that this service is strictly for a credit shop as there is no way to keep track of money in or out.  This is neither good nor bad.  We just wished they would have mentioned that on their website.
Our last complaint is that you can't add bonuses to a player.
Player Management
We love that for a Sportsbook Pay Per head software, we had so many options to choose from by simply checking boxes.  However, we did not like that you get a set amount of players (from when you registered for an account) and that you have to contact customer service to add more players.
Our Conclusion about 247PPH.com
Overall, 247pph.com has a strong and reliable sportsbook software but would not be our first choice.  This is because we had mixed feelings towards this service. The first reason is that we felt it has great features but was lacking in other important aspects that are essential in running a profitable sports betting operation.
The second reason was the price.  $10 is somewhat high for the standard pay per head service but then adding $5 per player if they use the phone service is excessive.
Looking for a good sportsbook pay per head service?  Then check out our Sportsbook Pay Per Head Reviews to see which Pay Per Head Provider makes the cut and which one does not!
247PPH.com
Average rating:
0 reviews