No matter what the Boston Celtics, perhaps the best defensive team in the NBA, do on that end, they don't seem to have an answer for the offensive abilities of Steph Curry. What the two-time MVP did on Friday night was something superhuman, as after undergoing some treatment for an ankle that got sprained in Game 3, came out and hung up 43 points to even the series at two games apiece.
The 107-97 win gives the Golden State Warriors some momentum, we figure, coming into Game 5, which is being played at the Chase Center in San Francisco. It will tip off at 9 PM ET, and at BetAnySports they have plenty of ways to get involved in the action, including live betting and Prop Builder.
Here are their NBA Finals odds for Monday's game:
Golden State Warriors -4
Boston Celtics +4
Over 210.5 Points -110
Under 210.5 Points -110
Curry had seven triples on his way to 43 points. He also added ten rebounds. What's really interesting here is that he actually did much better when the Celtics were contesting his shots (64.3%, which is positively sizzling). The Warriors, who were beaten up on the boards in Game 3 (47-31 deficit), came back in a big way, with a 55-42 advantage. Aside from what Curry did, Andrew Wiggins had 16 rebounds.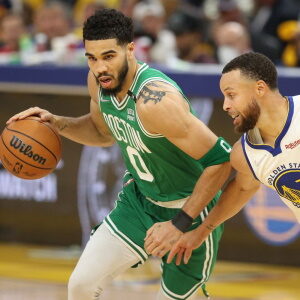 According to Bookie Pay Per Head news, Kevon Looney stood out for his efforts on the glass. Looney had eleven rebounds and the Warriors scored 21 more points than the Celts when he was on the floor. Steve Kerr did not even start him in the game, choosing to go with a smaller lineup that featured Draymond Green at center. But he probably needs to use Looney more, because he has been getting it done at both ends. He has Golden State's best individual Defensive Rating; he has made 13 of his 18 shots from the field, and he has more offensive rebounds than anyone in the series.
G-State's big effort at the TD Garden in Game 4 was characterized by more points in the paint (38-32) and more second-chance points (19-12) than Boston. So yes, "effort" was the key word in a game in which neither team was necessarily on fire from the floor (Warriors 44%, Celtics 40%).
Analysis from Bookie Software are saying "defense" is a key word throughout. Look at the leading scorers for each team. While Curry has shot 50% for the series, Jayson Tatum is just 34%. So the better job G-State has done against the other team's superstar is what has kept them alive in this series.
Well, not only are they alive, but they are a -145 favorite at BetAnySports to win the series and the championship, since two of these last three games are being played in San Francisco.
If you look at the trends coming into this game, the Celtics have a very solid pattern of bouncing back after a defeat. They are 25-13 ATS (65.8%) following a loss. And they have been a 61.5% proposition as a road dog. Golden State has covered at a 59.6% rate as a home favorite. Only 42% of the Warriors' games in San Francisco have gone over the total. This plays into our preference to go UNDER the total, even though we are doing so with a number that has been reduced from where it was in previous games.
And we will still lean strongly toward Golden State in third quarter betting. They have controlled the period in four straight games, with a +49 margin in the series.
BetAnySports has everything you want when it comes to enjoying the NBA Finals. Get reduced juice on this and every game, in addition to the opportunity to do live betting through a number of different outlets, and a multitude of props to choose from….. Remember also that you can use the virtual currency of Bitcoin to make your deposits, and that never comes with a transaction fee!