While there is no official confirmation yet, there are talks that Alabama quarterback Jalen Hurts will enter the transfer portal. Once confirmed, teams will scramble to add him to their lineup for the next football season.
Hurts lost his starting quarterback position to Tua Tagovailoa during the 2018 season. He accepted the coaches' decision and remained with the team. During the SEC Championship Game, Hurts proved his worth as he led the team to victory after coming off the bench.
At present, it looks like he wants to be a starter in a different team. In fact, there are signs that Alabama quarterback Jalen Hurts is going to enter the transfer portal. According to sports news reports, there are many teams interested in having Hurts as their QB.
Alabama Quarterback Jalen Hurts Stats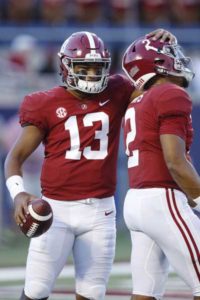 Hurts is the most sought-after grad transfer today. He is the top grad transfer quarterback after former Georgia QB Justin Fields finalized his transfer to Ohio State. In addition, Buffalo QB Tyree Jackson joined the NFL draft.
Alabama quarterback Jalen Hurts will be a big help to his next team. He appeared in three title games and named as the SEC Offensive Player of the Year during his freshman year. In the SEC title game, he completed 7 of 9 passes for 82 yards total and a TD. During his time in Alabama, his teammates and coaching staff respected him.
His career yards passing is 5,626 and 1,976 rushing yards. He completed 71 touchdowns. It is too early to tell where he will play next. However, there are some top teams that want to have a better quarterback for the coming season.
On that note, former Alabama offensive coordinator Mike Locksley moved to Maryland as its new HC. There are speculations from bookie pay per head experts that Hurts might follow Locksley and be a Terrapins in 2019. At present, only Hurts know what his next move might be.