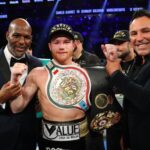 Can Chavez Jr Force a Fight with Canelo Alvarez
Boxing fans finally caught a break and we got to see one of the best fighters today, if not the best, last Saturday, February 27th, in Miami, when Saul Canelo Alvarez and Turkish boxer Avni Yildirim took the center stage at the Hard Rock Stadium, home of the NFL's Miami Dolphins, and in front of fans, a few at least.
Canelo had an impressive fight and looked in great shape, even though some people questioned if Yildirim was a good enough contender. Canelo had a solid 3 rounds and was pretty dominant in the third mostly. Yildirim's corner actually threw the towel right before the 4th round, and the Mexican American fighter got the win by TKO. According to the stats for the fight, Canelo landed a total of 67 punches, and 58 power punches, while Yildirim got 11 and 4 only. In the third round alone, Alvarez threw 53 of those 58 power punches, so now you know why Yildirim threw the towel right after that.
With this new win, Canelo now has a total of 58 fights in his career, and a 55-1-2 record, with 37 wins by KO and 18 by decision. His only loss in his career was against the great Floyd Mayweather Jr. back in 2013, and he lost it by decision, after 12 rounds.
Julio Cesar Chavez Jr. wants a piece of Alvarez
We did mention before that some people thought Yildirim was not a good enough match for Canelo Alvarez to defend his WBA, WBC, and The Ring super middleweight titles, and Julio Cesar Chavez Jr. is one of those people.
Right after the fight, the Mexican fighter, son of legend Julio Cesar Chavez, questioned Yildirim's level as a title contender and, in his Social Media channels criticized Canelo's inability to offer a fair and worthy show. Right next he offered to fight Canelo himself, and for free, in the 175 lb division, implying that he would be a better match, of course.
Alvarez and Chavez Jr. already fought back in 2017
It was back in May of 2017 and it took place at the T-Mobile Arena in Paradise, Nevada. The fight went to distance and Alvarez was declared the winner by unanimous decision, after all three judges scored it 120-108 for him. They fought in front of a sold-out crowd of over 20,000 people, and the event generated just around $80 million. It was the first fight that didn't include De La Hoya, Pacquiao or Mayweather, that generated over a million Pay per View buys since 2002, when Lennox Lewis defeated Mike Tyson in Tennessee.
Will there be a rematch between Canelo Alvarez and Julio Cesar Chavez Jr.? It's just rumors now, and Canelo's next opponent is former world champion Billy Joe Saunders, as it is already agreed to take place on May 8th. It will take place within the United States, but a venue hasn't been officially decided. Do you think this will be another W for Canelo Alvarez? Is he the best boxer around today?