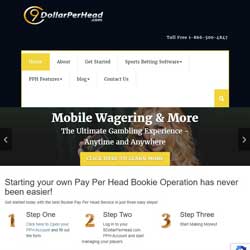 OUR RATING: 9.0 OUT OF 10
About 9DollarPerHead.com Pay Per Head
9DollarPerHead.com is one of the reputable brands in the pay per head business. They are known for their high-quality services. Clients claimed they received good customer service and bookie pay per head solutions. 9DollarPerHead.com pay per head review will look at the pros and cons of using their PPH services.
The PPH firm has been in the business since 2012. Since then, it has become more popular among bookies. Although they are not pioneers in the industry, they introduced innovations that led to efficiency and quality. Thus, sportsbook pay per head reviews are almost positive for the company.
9DollarPerHead.com General Info
Software: DGS
Inception: 2012
Cost Per Player: $9
Location: Costa Rica
Telephone:1-866-500-4847
Email: cs@9dollarperhead.com
Website: www.9dollarperhead.com
Internet Wager: Yes
Telephone Wagers: Yes
Racebook: Yes
Online Casino: Yes
Live Betting: Yes
Sports Betting: Yes
Live Casino: Yes
9DollarPerHead.com Pay Per Head Review
When you visit 9DollarPerHead.com, you will learn about its products and services. You get all the details and what you can get with $9 per player. Some of its features include a live betting platform, online casino, racebook, and more.
Its rate of $9 a player provides excellent value for your money. It includes all the features that other PPH providers would charge extra for.
Registering for an account is easy. The PPH firm doesn't require personal data. All you need to do is fill out the registration form, and you can log in to the account right away. Also, the process is automatic. They don't require any interaction with an agent.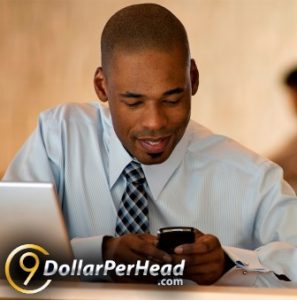 The Sportsbook Pay Per Head Software
9DollarPerHead.com based its sportsbook software on the DGS software. Also, the dashboard provides you with all the features and tools to operate a sportsbook. That way, you have full control of the lines and players via the dashboard.
Player Management
Also, player management is easy with 9DollarPerHead.com. Players can browse the different sports and lines through the sports betting platform. The PPH software automatically ensures lines are attractive to players. Also, you can manually change the lines to balance them when needed.
Our Conclusion about 9DollarPerHead.com
9DollarPerHead.com is one of the best providers of PPH solutions today. They offer quality sports wagering software and customer service. That's why we recommend them to our readers.
Although there are cheaper PPH services, you get good value out of 9 Dollar Per Head. They are a trustworthy company with a good reputation throughout the years.

Looking for a good sportsbook pay per head service?  Then check out our Sportsbook Pay Per Head Reviews to see which Pay Per Head Provider makes the cut and which one does not!
9DollarPerHead.com
Average rating:
2 reviews
Jul 16, 2021
Full Service PPH Provider
At $9 per head, it has all the tools and features I need to run my bookie business. Plus, they are helpful whenever I run into problems.
Nov 9, 2020
Software I Use
5 years in and I really cant complain. Price is worth it since I am getting a lot of help with my sportsbook.