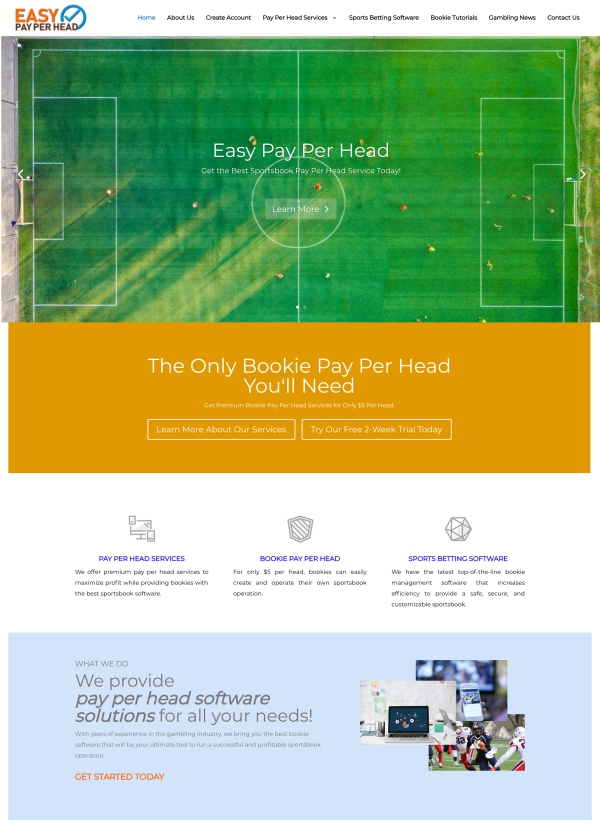 OUR RATING: 8.6 OUT OF 10
About EasyPayPerHead.com Pay Per Head
We often come across newer software providers in our sportsbook pay per head reviews. Usually, we like their software, but we still find most lacking in features. But for our review today, we have a relatively young sportsbook that took advantage of its youth to use the best technology to create a great sportsbook pay per head platform for bookies. Let's take a look and see why we like EasyPayPerHead.com.
Of course, our review of this site will most likely be viewed in comparison to more established sites. Most bookies tend to go for older sportsbook pay per head providers. And while this is good since you are working with reliable and established companies, you could still miss out on key features that the newer sportsbooks have. The key, is finding out if this pay per head service can compete with other similar services in the market.
EasyPayPerHead.com General Info
Software: DGS
Inception: 2019
Cost Per Player: $5
Location: Costa Rica
Telephone: live chat option
Email: brian@easypayperhead.com
Website: http://easypayperhead.com/
Internet Wager: Yes
Telephone Wagers: Yes
Racebook: Yes
Online Casino: Yes
Live Betting: Yes
Sports Betting: Yes
Live Casino: Yes
EasyPayPerHead.com Sportsbook Pay Per Head Review
We tend to be wary with new software providers that pop up seemingly overnight. Fortunately, EasyPayPerHead.com has been in the works for two years. Not only that, but the people behind EasyPayPerHead.com are industry experts who have been in business for decades. They know what every single pay per head bookie needs, and they made sure that they have the tools needed to provide it to their customers.
For instance, registration was a breeze. It was as easy as making an email address. After verifying our data, we were able to log in and view the software. We love the independence you get from the software, since player account creation and modification is something you can do on your own. But will the ease of use be the end of their great software, or is there more?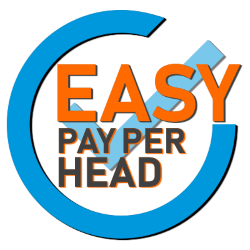 The Sportsbook Pay Per Head Software
Honestly, the whole site that bookies will get to use is standard for any pay per head software. You have a dashboard that displays your data, and you have the controls you need to manage your players and your lines. They really got this down pat, as it was easy to use. Even for people who are new into the pay per head bookie business will have a very short learning curve to get their sportsbooks up and running.
Player Management
Player management is good, since you can create accounts and edit their data at any time. You can also view their limits for credit and betting, and you can adjust these in real time. So far, everything we have done with the software was reflected in real time, and we had no problems with speed, loading, or any of the like. So far, its been a smooth experience. The only thing we noticed they could work on is to make the site a bit more exciting to visit. While it has basic color and design effects, they could do with a bit more flash. Their site oozes professionalism, but comes out as pretty plain.
Our Conclusion about EasyPayPerHead.com
Despite being one of the newer pay per head services in the market, they are actually quite good. Experience and time will prove its credibility, although their experts are highly experienced in their fields of expertise. Their site is a bit more on the plain side, but the features are very easy to use. They also offer to compile data based on parameters you select, which makes it easy for bookies to review their sportsbooks and see where they can make improvements.
One thing that we also like about their site, is that their services are only $5 per player. This makes them one of the most affordable pay per head providers in the market. In summary, if you have no qualms in trusting newer companies, EasyPayPerHead.com should be on the top of your list.
Looking for a good sportsbook pay per head service?  Then check out our Sportsbook Pay Per Head Reviews to see which Pay Per Head Provider makes the cut and which one does not!
Easy Pay Per Head
Average rating:
0 reviews