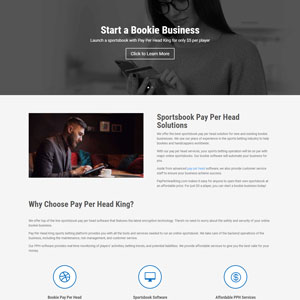 OUR RATING: 8.4 OUT OF 10
PayPerHeadKing.com has a fresh website. Although the website was just launched this week, we learned that they have been offering their pay per head solutions since 2016. In fact, their business started by providing sports betting software to startups. They opened their business to the public in the earlier part of 2019, and the rest is history. With this PayPerHeadKing.com review, we want to know the pros and cons of using their services
At present, the company's sports betting platform uses reliable DGS sportsbook software. However, there's not much bookie pay per head reviews on PayPerHeadKing.com due to its poor online presence. As a result, people are not sure whether to try their services or not. We try to take away that doubt by trying out their PPH solutions ourselves.
One thing we learned about PayPerHeadKing.com is that they offer PPH solutions for just $5 per player. With this PPH software review, we try to to find out if they provide great value for your money or not.
PayPerHeadKing.com General Info
Internet Wager: Yes
Telephone Wagers: Yes
Racebook: Yes
Online Casino: Yes
Live Betting: Yes
Sports Betting: Yes
Live Casino: Yes
PayPerHeadKing.com Sportsbook Pay Per Head Review
We really love the PayPerHeadKing.com website. It has a professional design and provides all the information you need about their products and services. You are greeted by the price rate of their sportsbook pay per head services, which is $5 per player.
The next thing we did was sign up for an account. It was a breeze and we didn't even have to give out any personal information. We just need to choose an account type, username, and password. After you submit the form, you can start your sportsbook pay per head demo.
On the downside, they don't seem to have a phone number. We got in touch with them through their email. On a positive note, their customer service staff answered our inquiries in a timely manner.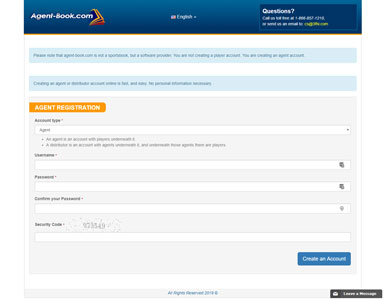 PayPerHeadKing.com Sportsbook Pay Per Head Software
PayPerHeadKing.com has a user-friendly user interface. The software can generate various reports to help you monitor your players' activities. You can sort the data based on the date, activities, and wager amount.
Also, the software allows you to monitor your cash flow. It makes it easier to manage your finances. As a result, you have more opportunities to grow. PayPerHeadKing.com is the perfect partner for your new bookie business.
Our Conclusion about PayPerHeadKing.com
In the two weeks we tried out PayPerHeadKing.com, we are very satisfied with our experience with them. For just $5 a player, you get all the features and tools you need for your sportsbook. In addition, they give you a casino, live betting, and live dealer casino for that price. As a result, we give it has one of the highest scores in our sports betting software reviews.
Click Here to Get Started with PayPerHeadKing.com

Looking for a good sportsbook pay per head service?  Then check out our Sportsbook Pay Per Head Reviews to see which Pay Per Head Provider makes the cut and which one does not!
PayPerHeadKing.com
Average rating:
2 reviews
Dec 2, 2019
Nice!
They are new so I am still waiting this out. But so far, in the months I was with them, I like their software. No problems as of yet. Hope they stay the same.
Aug 21, 2019
Nice Recommendation
I just finished the free trial I got when I read your post. I'm liking the interface and it looks like I'm staying with them!