For the New York Jets, it was an inspirational performance as they came back in dramatic fashion to beat the Cleveland Browns last Sunday. But was that enough inspiration to carry them for a while? Or will there be an emotional letdown as they prepare to face the Cincinnati Bengals? This game is slated for 1 PM ET at MetLife Stadium, and you know, if you are a BetAnySports customer, you'll be able to get reduced juice on this game, making iot easier for you to get more value.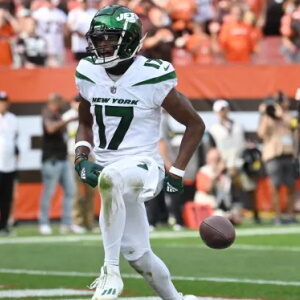 The Jets were behind by a touchdown with time running out and no timeouts. Cleveland's Nick Chubb ran the ball in for a touchdown,. but what he lost sight of is that if he had just taken a knee, the Browns could have run the clock out. As it turns out, the Jets got the ball back and scored a touchdown, then another, because they recovered an onside kick. And since the Browns missed the extra point, the Jets came away with a 31-30 victory, which was the first time in 2330 NFL games that a team was down by at least 13 points with less than two minutes left and still won the game.
And Joe Flacco was in his glory again. The former Super Bowl MVP threw for 307 yards and four TD's. Rookie receiver Garrett Wilson had 102 yards on nine catches. Corey Davis had a 66-yard touchdown reception. It was a good experience when all was said and done.
Second-year head coach Robert Saleh supported Flacco (in for the injured Zach Wilson) as his quarterback, while many were calling for Mike White to be inserted. So he's been vindicated, at least for a week.
But what does a disappointed Cincinnati team have in store for them? According to football betting sites, The Bengals, who are the defending AFC champions, are 0-2 after losing 20-17 in Dallas. But we know they are better than that. And they want some payback as well.
NFL Betting Odds – Bengals vs Jets
In the NFL betting odds that have been posted on this game by the folks at BetAnySports, the Bengals are laying points on the road:
Cincinnati Bengals -6
New York Jets +6
Over 45 Points -110
Under 45 Points -110
Cincinnati's offense has been a bit choppy, and one reason is that the line has not been able to protect Joe Burrow, who has been sacked 13 times and pressured a lot. His big-play threats have been held back, since opponents are playing deep coverage. And that means Ja'Marr Chase has been a little less of a factor. But he's still there; still looming, and that is a very big concern for this New York defense.
According to bookie pay per head info, the Jets' offensive line did a superb job against Cleveland's pass rush last week, allowing only two sacks. But one cannot ignore the injuries the team has suffered there, to Mekhi Becton and then Duane Brown. So that is a potential spot of vulnerability.
Last season, with the aforementioned White throwing for 405 yards, the Jets shocked Cincinnati 34-31, behind 17 fourth quarter points. That was a bitter pill for the Bengals to swallow. And they haven't forgotten it. We don't know if the Jets are still celebrating from their great moment on Sunday, but it wouldn't surprise us all that much of they were. There are too many weapons on the Cincinnati side, and if Burrow can keep himself under control (four INT's in the opener, none last week), the Bengals ought to get more consistent offensive play, as we're not counting on Flacco to have another career day. So we're laying the points.
BetAnySports has a tremendous offer for you, as reduced juice can bring more value to the table…….. And when it comes to options, it's tough to beat the multitude of ways you can wager on the action as it is in progress……… Open your account with a credit card, or if you're holding some Bitcoin, that's easy too, plus there's no transaction fee!