Regular gamblers bet more even if there are little to no sports on TV, according to the latest study. Although there's a decrease in betting from part-time players, problem gamblers moved to riskier products such as online casinos.
As a result, the online gambling industry grew significantly during the coronavirus pandemic. More than 1,000 people responded to the survey. Most of them said that they reduced their gambling since the start of the coronavirus outbreak.
During the coronavirus lockdown, sports events were canceled to promote social distancing. As a result, sports betting slowed down. However, regular gamblers found other venues to bet on. Twenty-five percent of people who bet at least once a week said they are still gambling during the lockdown. Twenty-eight percent said they increased their gambling activities. Eleven percent said they are betting a lot more.
Regular Gamblers Bet More in Lockdown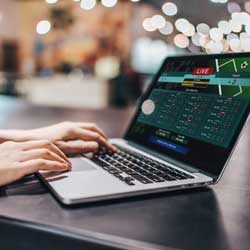 It is the wrong time to be an online bookie because of the lack of sports. However, that didn't stop players from doing what they love. They switched to online slot machines and other digital casino games. Online casino games have higher addiction rates.
Based on bookie guide sources, more than half of casual gamblers sustained or increased their gambling level. Forty-one percent of respondents said they opened a new online betting account since the start of the coronavirus pandemic.
What's surprising is that more than a third of regular gamblers knew they were spending too much on gambling. Also, they knew they were developing an addiction. Thus, the online gambling industry is the big winner during the coronavirus outbreak.
Consumer rights groups want more measures to protect people from gambling more during lockdown. Also, they want a comprehensive review of the UK Gambling Act of 2005. They want self-regulation of the industry to stop and the government to step forward to protect consumers during the health crisis.